We would like to present you with our entire spectrum of services. The emphasis of our site is Park X-Ray Laboratory's latest acquisition of the new generation Imaging Sciences i-CAT 3-D Imaging System, now with a quick scan time of only eight seconds. Accuracy is critical for a successful procedure. Instead of looking at a flat two dimensional x-ray, you now have the ability to view your patients in all three dimensions.

CONE BEAM COMPUTERIZED TOMOGRAPHY (CBCT)

This is the most diverse emerging technology to reach dentistry in decades. Clinical applications touch every aspect of dentistry from general practice to orthodontics, periodontics, implantology, and oral maxillofacial surgery.

Free interactive viewing software is included on CD or DVD with every i-CAT 3-D scan allowing dental and medical professionals the opportunity to easily share images.

3D imaging is one of the most effective tools for evaluating implant sites. 3D images can identify potential pathologies and structural abnormalities with unprecedented accuracy.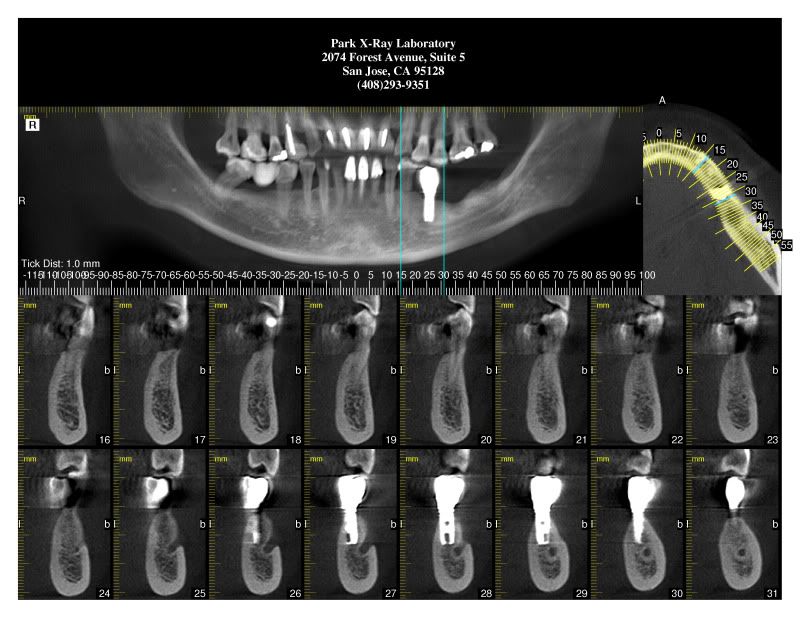 i-CAT FOR IMPLANT SURGERY

The i-CAT allows you to:
Select the exact implant required
Achieve distortion free unmagnified measurements of the nerve canal position
Measure buccal/lingual width
Complete 3-D information to optimize treatment planning and placement for implant
Locate critical anatomy and determine if bone grafting or sinus lift is warranted
View impacted molars, cuspids, adjacent roots and other anomalies
And can be utilized with implant planning software

i-CAT takes the imaging of the Temporomandibular Joint (TMJ) to a new level. The 3D image is the clearest seen to date of TMJ anatomy.

i-CAT FOR THE ORTHODONTIST

Orthodontists are able to create a complete orthodontic work-up from one scan including: Cephalometrics, SMV, Airway, Panoramic, TM Joints, Impactions, and Facial soft tissue.
Only a 3D scan can demonstrate the exact individual anatomy, define anatomical structures, and motivate the discussions that lead to the patients' understanding of their unique clinical circumstances.

i-CAT FOR MAXILLOFACIAL AND ORAL SURGEONS

View teeth, airway, temporomandibular condyles, the mandibular complex, and sinuses. Visualize impactions within the alveolar bone, location relative to adjacent teeth/roots, and proximity to vital structures. Accurate information resulting in less invasive surgery. Diagnosis of bone morphology, joint space and function for TMJ analysis. Obtain thorough 3D information to optimize treatment planning.
If you are not familiar with our office and your first contact with us is online, let us know what your needs and questions are, we will be pleased to help.

Park Avenue X-Ray Laboratory was established in 1958 and located on Park Avenue in San Jose. After a few years we moved our location from Park Avenue and dropped the Avenue from our name to become Park X-Ray Laboratory. Park X-Ray Laboratory is committed to providing outstanding service to the Dental Community. Referring Doctors value the high quality of our imaging, our courteous staff, our affordable fees and our rapid delivery of images. Park X-Ray Laboratory is located at: 2074 Forest Avenue Suite 5, San Jose, CA 95128. We are one block from O'Connor Hospital.


We have a fast turn around. Your patient's scan is shipped by UPS courier the following day after their appointment.